Shopping and Cuisine
Venue | Shopping and Cuisine
SHOPPING
Beautifully blending the old and the new, shopping in Hyderabad is part and parcel of discovering the city. With centuries-old bazaars sprawled in the shadows of glitzy new malls, and traditional handicrafts sold alongside international brands; the city does a great job of acquainting you with its heritage while ploughing you with treasures from around the world.
Shilparamam
Part rural museum and part arts village, Shilparamam recreates the setting of an Indian village, with 15 life-sized huts exhibiting the life of artisans. It houses numerous stalls selling textiles and handicrafts from Andhra Pradesh and other parts of India. Other attractions include food courts, an art gallery, a rock museum, a sculpture park and boating in a lake surrounded by plantations. It also hosts a vibrant night bazaar called Ship Sandhya Vedika with stalls and food.
Bidri Crafts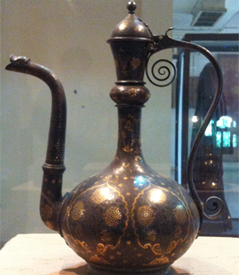 Hyderabad is one of the two major centres of bidri, an exquisite metal craft that involves intricate inlay work with silver sheets on an alloy of zinc and copper. This results in a striking contrast between the glistening silver design and the black metallic surface. Originally patronised in Iran, the technique travelled to Hyderabad via Bidar in the 14th century. This family-run shop is one of the oldest manufacturers of bidriware in the city and known for its exemplary craftsmanship. Its range includes vases, ashtrays, paandaans, jewellery, boxes and accessories like cufflinks and buttons.
Kalanjali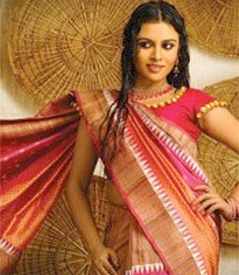 This is your one stop shop for handicrafts and handlooms from all over the country. Kalanjali Arts & Crafts is a part of the Ramoji Group and is based in Telangana and Andhra Pradesh. The Parent Group's business interests include publishing, film production and distribution, film studios, satellite television, financial services, hospitality and tourism, processed foods & Retail.Every artifact handpicked from master craftsmen in the remotest corners of the country. Kalanjali helps you discover the treasure trove that is India. It has the most exclusive collection of Indian Handicrafts.
Singhania's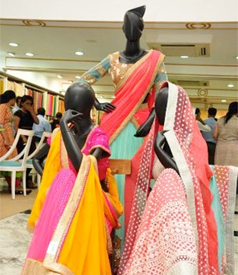 Established in 1881, this fashion store has a long and illustrious history of selling fabrics in the city. In 1939, the Nizam of Hyderabad appointed one of the owners as the textile distributor for the entire state of Hyderabad. Today, the shop is reputed for its vast collection of saris, lehengas and anarkali suits.
Perfume Market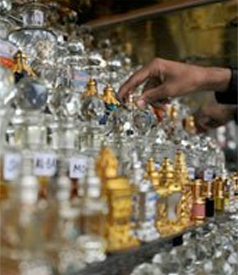 Hyderabad's perfume market is located between Laad Bazaar and Moti Chowk, near Charminar. A row of shops sellittar or locally-produced perfumes packed in small glass vials. Unlike alcohol-based perfumes, these are made with a base of sandalwood oil, in fragrances like musk, jasmine and rose. You can also head to the family run-shop Hyderabad Perfumers in Patergatty near Charminar.
CUISINE
Hyderabadi cuisine also known as the Deccani Cuisine of India, was developed after the foundation of the QutubShahi Dynasty. It is the amalgamation of Mughlai, Turkish and Arabic along with the influence of the native Telugu and Marathwada cuisines.No visit to Hyderabad would be complete without sampling its unique cuisine – a rich blend of royal Mughlai flavours, Nizams special, and spice-up culinary traditions of South India such as: Hyderabadi biryani, pathar-ka-ghosht, nahari, haleem, double-ka-meetha, khubani-ka-meetha, seviyon-ka-meetha and kheer.
Hyderabadi
Dum Biryani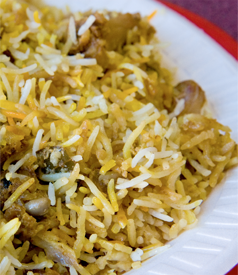 Hyderabadi dum biryani, is where dum refers to the baking process and basmati rice and meat or vegetables are mixed in a pot and heated for a long time. During the Nizam's time, the biryani was made with lamb carefully cooked with rice. Culinary delicacies of Hyderabad include: Gosht, which is made from a buck/billy/young goat, and is associated with the Hyderabadi cuisine. Hyderabadis prize the meat of a male goat.
Double Ka Meetha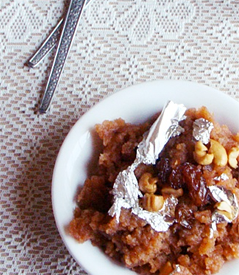 Double KaMeetha, is a dessert made from bread, milk and dry fruits. Double KaMeetha refers to the milk bread called Double Roti in the local Indian dialects because it swells up to almost double its original size before baking. It is particularly prepared during the festive month of Ramzan and on Eid.
Qubani Ka Meetha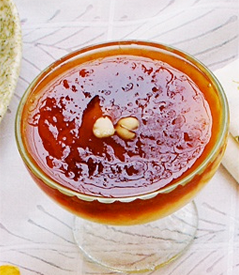 QubaniKaMeetha (Hyderabad's preferred dessert sweet. It is made from apricots boiled in sugar syrup till they achieve a thick consistency. It is often topped with ice-cream or cream.
Irani Chai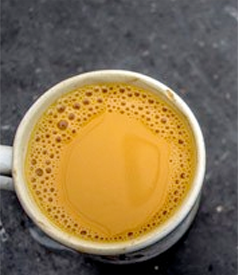 Traditions and heritage are still important to Hyderabad and one can definitely sense it, not just in the old city, but also in the local dialect and in the tantalizing aroma of the Irani chai. Brought from Persia in the 20th century to Hyderabad, via Mumbai and Pune, the Irani chai has stood the test of time and become a part of what defines Hyderabad.